Pokemon Onyx Blue is one of the special rom hack of Pokemon Sapphire ROM which is being made by Zatarion using Sapphire Code Base Engine. You will surprise to know that there are nothing special changes in the storyline of the Pokemon Onyx Blue ROM Download. Almost 200+ pokemon are available to catch and you will receive all of your 3 starters in the start of the game. Most amazing kind of features has been introduced in the gameplay which makes it more unique from any other hacks of Sapphire ROM. The main character is playing the role of a trainer. Let's have a look at some of the interesting and amazing features available in the game which makes it more unique from any other hacks.
Explore and Download the Game Quickly
Complete File Info:
Full Game Name: Pokemon Onyx Blue Version

A remake of Pokemon Sapphire ROM

Platform: GBA

Creator: Zatarion

Year of Release: 2008

Latest Version: Jan 2018

Status: Completed Beta
Snapshots of the Gameplay: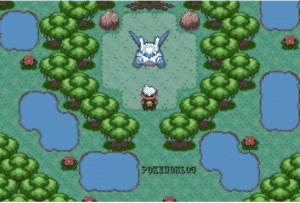 Complete Overview and Walkthrough of Pokemon Onyx Blue Download ROM GBA:
As the game starts you will be sitting on the wall of your home and will be talking to your Mom. You both are discussing something really important, but suddenly you receive a call from Professor Birch. As Professor Birch is one of the leading characters in this area and he will truly helping you out in some serious conditions. Some of the features which were missing in the previous beta version are now available and being fixed in the final beta version. Now you will never receives any bug and glutches in the final version ever.
Professor Birch will call you soon and after visiting his lab you will come to know that he is offering your a starter pokemon. This will be the first ever pokemon your receives from the Professor and all you have to do is to keep it safe. As your main role is off the Trainer and being a trainer, you have to train this pokemon. While you train this pokemon you will come to know that these starter pokemon is off great use which can bring you some ease in your gameplay mode. Some of your rival teams have already taken their starter pokemon many months ago. They are using these starter pokemon for their own usages. Maybe they are using for the preparations of battles and challenges with you. God knows better! 
You can also try Pokemon Alchemist ROM  OR Pokemon Amaryllis Version
While moving forward with your starter pokemon, you will have a nice journey. Throughout the journey, you will meet some people and two evil teams as well. These teams names as Team Magma and Team Aqua. These teams have certain kind of new powers which they can use for many purposes. These two teams are trying to wake up the ancient power of Groudon and Kyogre – two Legendaries of the land and the sea. Some of the teams are also hidden, so all you have to is to keep in touch with these teams to know about them.
List of Some Amazing Features and Facts in Pokemon Onyx Blue Download ROM:
Having new scripts and gameplay.

Most Pokemon are new.

Pokedex is complete and the game as well.

Find and capture a different kind of pokemon.

You will receive all the 3 starters.

Most of the pokemon from Gen 1 to 3.

Trianers and Gym leaders are more challenging.

You are playing the role of a trainer.
Download Pokemon Onyx Blue Version For Free: