Mega Moemon Emerald is a rom hack of Pokemon Emerald using the English Language as base. It is created by Septentrion, using the Emerald Rom as the base, having some amazing pokemon in the list. A Whole new area is given to explore for the main player in the game. Download Mega Moemon Emerald Rom for free using the pokemonlog portal, with having more than 300 new pokemon. Explore the area with new starters available for you. Get into the forest and explore for some wild pokemon to make a superb collection. The main player being a lead role have to explore the area with much enthusiasm. Let's explore some amazing features available in the game before downloading it.
Game File Info:
Game Name: Pokemon Mega Moemon Emerald
Platform: GBA
Language: English
Remake by: Septentrion
Remake from: Emerald.
Complete Walkthrough of Mega MoeMon Emerald ROM GBA:
Have you ever played the main emerald rom, I am sure you will have played. You will be thinking that if this is the remake of main Emerald rom then it will be the same as original storyline. But wait! There has been some changes in the storyline which makes it easy for you to explore the whole area and make it possible for you to catch some amazing pokemon. The pokemon may of different nature and kind, but all you have to do is to catch some wild pokemon. Catching is one of the best feature that the game contains and for that this is very famous hack among all the rom hacks of emerald.
Certain new pokemon and trainers are part of the game, which makes it easy for you to train your pokemon in the right place. Training the pokemon is a special task which should be assigned to you as soon as you move forward and explore the area. Some new mega evolutions are part of the game and for some pokemon these mega evolutions are extra peice of thing because they are nicely designed. All the AI and physical appearance of pokemon are being redesigned with special new updates and animations. The wild pokemon has the better appearance as compared to the others because they are found in forest and rare places.
Finding and Catching Pokemon:
One of the most important task in the game is catching some pokemon for yourself and for completing the pokedex as well. Finding the right pair of pokemon is another hectic job that you have to do as soon as you move in the Kanto region. The Professor will assign you some amazing tasks and missions. Some missions are really complex and they are hard to be completed on time because they have time limtation and other things such as difficulty and training. But still you can find some cool and amazing pokemon in the game especially in the wild areas like forests and canals. Also, try Pokemon Super Heart Red Download
The whole town contains almost 200+ pokemon which is another great oppurtunity for you to find some amazing pokemon. Keep in mind that these pokemon can be used for several purposes like the battle and war. Battles can be faught with these pokemon, like some of them area legendaries pokemon as well. Legendaries have some special powers and abilities which can be entertained while catching and achieving these types of pokemon. Keep in mind that these legenderies pokemon have some special powers as well, which makes you enable to find more mega stones. Mega Stones can be used for multiple purposes, some of them use it in the battlefield while some make use of them in catching the legendaries.
Battle Effects and Graphics:
Several changes in the battlefield has been done, which makes it easy for you to fight a constructive battle with the enemies. Some Evolutions to the pokemon has been done, which makes the battle with them more complex this time. Mega evolution, among many other evolution methods from Gen IV onwards, is an indispensible method of achieving all generational evolutions from Gen IV onwards. Special new war effects for these new pokemon has been added which makes the game more amazing for you to complete all the missions on time.
Several new graphics changes has been done, like changing the dressing of some characters. All these dressings and top ups has been changed with the change in their styles. Several new styles and animations for the characters has been included. New Animations for moves of some pokemon has been added which makes it easy for you to note down the special moves of some pokemon in the list. Complete the pokedex on time so that you have a better number of pokemon at the time of battle and exploring the area. Also, try Pokemon Enhanced Emerald Download (v7.7 Latest)
Trade Evolutions:
All trade evolutions have been discarded, and replacements have been added. Please review the ChangedEvos.txt document for more information. Various new evolutions have been made to the Trade system and now you will enjoy a completely new trading system with much features added.
Timing and Duration of trades methods has been changed. Now For convenience, all evolution methods that rely on time of day have an alternative method in addition to their usual method. These type of changes makes it easy for you to explore and trade with ease. Also, try Pokemon Blasting Off / Pokemon Team Rocket Version
Screenshots of the Gameplay: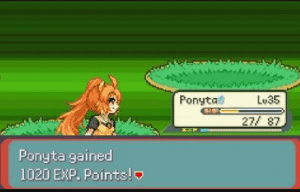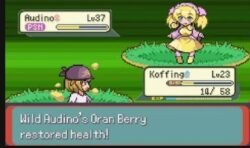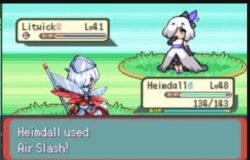 Some Amazing Features in Mega Moemon Emerald GBA:
Changes in Graphics and animation.
Mega Evolutions.
New Battle and War effects.
Catch as many pokemon as you can.
Moves and abilities updated to Gen VII standards when possible.
Various catching features.
Wild Double Battles can occur on land ~15% of the time (requires 2 or more mons in party).
Move indoors and new movesets.
Hidden Abilities can show up on any Moemon ~10% of the time.
Better Sound system.
Download Mega Moemon Emerald GBA For Free: