Pokemon Advanced Adventure Rom Download
Last updated on March 25th, 2019 at 09:44 pm
Pokemon Advanced Adventure rom is a completely new game which is based upon Pokemon Leaf Green Game, with the addition of a completely new storyline. The Pokemon Advanced Adventure Download Version have post gameplay introduced. All the cheat codes of leaf green game can be applied in the game as this game is based upon it. Moreover, you will notice that there are some new areas and places have been added in the gameplay. The main character has to play the main role of hero in saving himself/herself as the role model as saving them from troubles. Let's see what's something special in the gameplay of this game.
Basic info of the game:
Game Full Name: Pokemon Advanced Adventure Version GBA




Platform: GBA




Creator: dbzmay

Based on LeafGreen Game

Size of Game: Above 10 MB
Snapshots of the gameplay: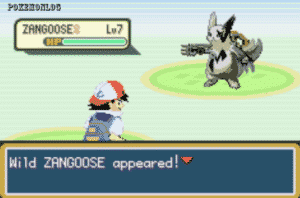 Pokemon Advanced Adventure Version Complete Walkthrough and Review:
The main player wishes to become a pokemon trainer in the area where he/she is currently living. He belongs to a poor family background where all the basic resources are limited and there are less chances for him to prove himself in front of the people where he is currently living. The dreams are bigger, like becoming the best pokemon trainer in the area. As there is various kind of new gyms in the area where the gym leaders are present to challenge you for several kinds of competitions. Also, check out Pokemon Tree of Life  Version and Pokemon Metal Version.
One Morning you suddenly gets a call from the Professor who is living in your area. He has something special and bad for you. Special in the case that you have the opportunity to prove yourself a great saver in front of the town people and bad in a case that you have to struggle hard. The Grandson of the Professor has all the kind of bad deeds. He took a change of events in his life and has taken over the Pokemon Headquarters.
Now all you have to do is to stop all the subordinates in the game. Remember that there is various kind of subordinates that he has like almost more than 7. The 8 genetically modified tyrant pokemon running wild in towns and infiltrating the Pokemon Headquarters. These are just curious things that you have to manage before becoming a good pokemon trainer in your region.
Things to note about Pokemon:
There are almost 100+ pokemon in the region to explore. But the cool thing and one of the amazing feature about this is that all the pokemon can be catchable. Most of them have different kind of attacks and types. They are more stronger than the starters ones, but you have to keep a look at their types and moves as well. Several new kind of moves of almost every pokemon has been included which cna be one of the big change in the pokedex of the game.
You will be surprised that the all the Gen 5 Pokemon including the legenderies ones has been included in the pokedex as well. Also, you have to complete the whole pokedex as well, because it is one of the amazing fact about this game. Almost, all the pokemons are catchable and now this can be the special feature of the game.
About the Region and Spirtes:
One cool thing about the region is that almost all the places and areas in this region can be discoverable. Most of these areas can be explored and easily you can find new wild type of pokemon. But one thing you have to note about the wild pokemon is that you have to train them properly and in a course of time.
There are almost every kind of new sprites and new 3D visual effects which will attract your attentions to play the game until the end. Most of these features are almost avaialable in the leafgreen version as well. Also, the cheat codes of leafgreen can be applied and you have to apply it with your choice.
Disclaimer: Pokemonlog.com Don't Provide ant Type of Hack, Crack, Patch, Mod and Virus Containing Download setups. All the Setups given here for downloading purpose are 100% Tested and Working. If you find download Link not working or broken then report us contact@pokemonlog.com 
List of Amazing Features in Pokemon Advance Adventure ROM Game:
Having a new interesting Storyline and Plot.

Tiling errors south of Hero's Village




Nice Collection of new graphics and sprites.Gen 5 Pokemon.

After game storyline completely coded completely.




Stairway to Heaven/Sages Cavern,




Having new maps and locations to explore.




You can obtain almost all the TMs




Having new routes like

Route 11.




New Spirtes like HQ sprites and other scripts completely recoded




All the Maps scripts disabled




Added all the new legendary Sprites/Movesets




Remapped all the new maps: Stairway to Heaven/Sages Cavern, etc.




Added higher lvl pokemon inside HQ security




Different modes like Deoxys attack and other attack modes.




Amazingly all the tiles errors have been fixed.

Different battle and attacks modes makes the game more perfect.

Having nice collection of new moves and movesets.

All the players have their own statuses.
Download Pokemon Advanced Adventure Version GBA Game Free Now: