Pokemon Advanced Adventure rom is a completely new game which is based upon Pokemon Leaf Green Game, with the addition of a completely new storyline. The Pokemon Advanced Adventure Download Version have post gameplay introduced. All the cheat codes of leaf green game can be applied in the game as this game is based upon it. Moreover, you will notice that there are some new areas and places have been added in the gameplay. The main character has to play the main role of hero in saving himself/herself as the role model as saving them from troubles. Let's see what's something special in the gameplay of this game.
Explore and Download the Game Quickly
Basic info of the game:
Game Full Name: Pokemon Advanced Adventure Version GBA




Platform: GBA




Creator: dbzmay

Based on LeafGreen Game

Size of Game: Above 10 MB
Snapshots of the gameplay: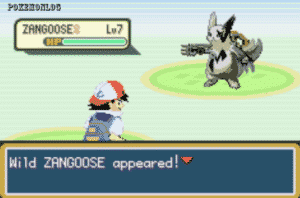 Pokemon Advanced Adventure Version Complete Walkthrough and Review:



The main player wishes to become a pokemon trainer in the area where he/she is currently living. He belongs to a poor family background where all the basic resources are limited and there are less chances for him to prove himself in front of the people where he is currently living. The dreams are bigger, like becoming the best pokemon trainer in the area. As there is various kind of new gyms in the area where the gym leaders are present to challenge you for several kinds of competitions. Also, check out Pokemon Tree of Life  Version and Pokemon Metal Version.
One Morning you suddenly gets a call from the Professor who is living in your area. He has something special and bad for you. Special in the case that you have the opportunity to prove yourself a great saver in front of the town people and bad in a case that you have to struggle hard. The Grandson of the Professor has all the kind of bad deeds. He took a change of events in his life and has taken over the Pokemon Headquarters.
Now all you have to do is to stop all the subordinates in the game. Remember that there is various kind of subordinates that he has like almost more than 7. The 8 genetically modified tyrant pokemon running wild in towns and infiltrating the Pokemon Headquarters. These are just curious things that you have to manage before becoming a good pokemon trainer in your region.
New Tiles and Sprites:
In the newest addition to the popular Pokemon franchise, there are more than 400 new sprites and tiles from which to choose from. This allows a more personalized experience for players looking for a change in their gameplay. With a new map system, players can enjoy a new level of customization with their avatar. These features include: a new tile system, the ability to catch wild Pokemon, and over 100 new sprites. The new tiles can be crafted at anytime and any place in the game. This feature allows for unlimited exploration without having to worry about running out of space. Players also have the ability to create their own maps by using the tiles they've collected throughout their journey. Also, try Pokemon Mega Adventure Download (v1.3 Latest)
There are many new features that will keep the player entertained and wanting more. These features include having a wider variety of Pokemon to choose from as well as new ways to battle with them, such as customizing your sprite. The most important addition to this game is the ability to make your own tiles and sprites for use in-game. A new game for the GameBoy Advanced Console is popping up, and it is said to be a remake of Pokemon Yellow. The player will be able to explore the world of Kanto with their starter Pokemon Pikachu or Pichu. The tiles are being redesigned, along with the sprites for all the Pokemon in the game.
The goal of this game is to find all 150 Pokemon, which can be done through trades with other players.
All Pokemon are catchable:
The many Pokemon games have created a world where kids can bring their imaginations to life in order to catch all of the Pokemon in real life. The skills in the game are in-tune with reality in that you have to use your brain and strategies in order to find your target. You also need to be aware of the environment which is filled with many different types of Pokémon, some of which are harmful. There are now over 1000 different Pokemon to catch, train, and battle with. Some new features include Evolve now being a one-step process instead of requiring two, more powerful moves learned by levelling up for certain types of Pokemons. The best part is that all Pokemon are available to be caught in the game!
It has a different goal than simply catching all 151 Pokemon. In this game, you can catch all 719 Pokemon in one single playthrough from Kanto all the way to Sinnoh. There are also no wild encounters in this game. The player's only task is to get through each area and catch any Pokemon they've missed along the way. Many people find the idea of catching all the pokemon in Pokemon Advanced Adventure difficult to conceive. One day, they might wake up and say "I can't do it anymore." But what they don't realize is that there are helpful tips to getting every pokemon out there! It starts with taking your time, so you can fill up your pokedex. The more you play, the better chance you have of encountering a rare pokemon.
In this version, you can choose from over 700 different creatures to catch and capture. If you're new to the series or just want to explore, then it might be useful to read our guide on catching Pokemon in it! It offers players an all new adventure to embark on. Though the world of Pokemon is vast, with hundreds of different Pokemon to capture, some are more elusive than others – until now. The new game mechanics have given trainers a new way to catch all of their favourite Pokemon.
Things to note about Pokemon:
There are almost 100+ pokemon in the region to explore. But the cool thing and one of the amazing feature about this is that all the pokemon can be catchable. Most of them have different kind of attacks and types. They are more stronger than the starters ones, but you have to keep a look at their types and moves as well. Several new kind of moves of almost every pokemon has been included which cna be one of the big change in the pokedex of the game. Also, try Pokemon Adventures Yellow Chapter
You will be surprised that the all the Gen 5 Pokemon including the legenderies ones has been included in the pokedex as well. Also, you have to complete the whole pokedex as well, because it is one of the amazing fact about this game. Almost, all the pokemons are catchable and now this can be the special feature of the game.
No Trade Evolutions:

For many generations, Pokemon games have introduced trade evolutions, where certain Pokemon can evolve by trading with different species. However, in the newest game in the series, there are no trade evolutions at all. The game instead introduces pre-evolution forms of rare Pokémon, which can be obtained by levelling up to level 50. This change was made because the developers wished to give players more variety in their team without having to rely on trading. Many fans have been upset by the lack of trade evolutions. This is because in previous pokemon games, trading with other players allowed pokemon to evolve into stronger creatures. Without this feature in Pokemon Advanced Adventure, many players are stuck at a certain level. When asked about this issue, the president of Nintendo said that they wanted to focus on what makes this game different from others in the series. Also, try Pokemon Kanlara Adventures
The first evolution is the first stage of the Pokemon's life and there are no other stages for this generation of pokemon. This creates a worry that the number of moves available to players will be diminished, since many moves can only be learned by evolving a previous form. Many people are excited to see what changes will be made, but one of the most anticipated factor is the ability to evolve Pokemon. As it turns out, there are no trade evolutions in these games at all! This is somewhat disappointing for people who would like to experience trading with other trainers, but it's understandable that few game developers want to make trading overly complicated for gamers.
In the most recent Pokemon release, Caught in the Middle, there is no longer a trade evolution for pokemon that had become unusable. This is a trend that has been happening for the past few releases and will be an ongoing theme going forward. Fans of the trading card game may recognize this as a clear connection to the TCG's "POTD" rule, where players can't evolve their pokemon until they've played it at least once.
About the Region and Spirtes:

One cool thing about the region is that almost all the places and areas in this region can be discoverable. Most of these areas can be explored and easily you can find new wild type of pokemon. But one thing you have to note about the wild pokemon is that you have to train them properly and in a course of time.
There are almost every kind of new sprites and new 3D visual effects which will attract your attentions to play the game until the end. Most of these features are almost avaialable in the leafgreen version as well. Also, the cheat codes of leafgreen can be applied and you have to apply it with your choice.
List of Amazing Features in Pokemon Advance Adventure ROM Game:
Having a new interesting Storyline and Plot.

Tiling errors south of Hero's Village




Nice Collection of new graphics and sprites.Gen 5 Pokemon.

After game storyline completely coded completely.




Stairway to Heaven/Sages Cavern,




Having new maps and locations to explore.




You can obtain almost all the TMs




Having new routes like

Route 11.




New Spirtes like HQ sprites and other scripts completely recoded




All the Maps scripts disabled




Added all the new legendary Sprites/Movesets




Remapped all the new maps: Stairway to Heaven/Sages Cavern, etc.




Added higher lvl pokemon inside HQ security




Different modes like Deoxys attack and other attack modes.




Amazingly all the tiles errors have been fixed.

Different battle and attacks modes makes the game more perfect.

Having nice collection of new moves and movesets.

All the players have their own statuses.
Download Pokemon Advanced Adventure Version GBA Game Free Now: