Pokemon Omega Red is a GBA ROM hack of Fire Red which have numerous kind of new features and updates available to test out. Several new animations effects and background elements has been changed. Pokemon Omega Red ROM Download version is one of the best rom hack of fire red for all the GBA Game Lovers, which is created by Jolt Steven.
Explore and Download the Game Quickly
There are total 40 plus features which will make you entertained throughout the game, Graphics of the game has been made outstanding, with the inclusion of outdoor graphics as well. Talking about the Cave Graphics which are updated from the previous rom hack of fire red. Let's move on to the best and amazing kind of features available in Omega Red Pokemon Game.
Full Game Info:
Game Name: Pokemon Omega Red Version
Created by: Jolt Steven
Platform: GBA
Features: Over 40
Version: v4.2 Latest
Complete Walkthrough of Pokemon Omega Red v4.2 ROM Download:
When the game starts, it will ask the basic introduction from you, whether you want to choose the male character or female. After that, you will be instructed for the next moves available in the game. Meet the Professor on time because he is waiting for you to implement some experements at his lab and outdoor area as well. There are various kind of new pokemon available, about 807 Pokemon of all the Alola Forms are available in the game which makes the game more complex than ever. With these pokemon you can do anything you want to do.
Different kind of forms are available in the game including the Alola Forms as well. One of the greatest feature in the game is that you can experience out the Mega Evolutions available in the game. Test out all the mega evolutions on the available pokemon. Hunt out for some new pokemon in the area so that you can complete the pokedex on time like in Pokemon World Tournament . As completing pokedex is one of the crucial task of the game which should be completed on time. The Overworlds style mini sprites will make your gaming experience alot more better than ever.
Fairy type Pokemon and others:
Fairy type pokemon and other types are available which makes the game more complex, because you have to deal with them on time. Attacks in the pokemon omega red rom hack game has been updated and included from 4th and 5th Generations. As for as attacks are concerned they are divided in several categories like the Special, State and Physical attacks like in Pokemon Omega Ruby ROM. All of them can be tested out on the special ocassion, however it depends on you experience that how you want to tackle them on time.
Graphics and Animations:
The new Pokemon game, Omega Red, is set to release soon and fans are excited for the updated graphics and animations. The game looks beautiful and the colors are so vibrant. The characters look realistic and the movements are so fluid. I can't wait to see how the story plays out and to catch all of the new Pokemon. The new game looks amazing and the developers have done an incredible job with the graphics and animations.
Players will be able to experience the world of Pokemon in a whole new way with stunning visuals and fluid animations. The new game is sure to be a hit with fans of the series and will provide hours of entertainment. The game is said to feature some of the best graphics and animations seen in any Pokemon game to date. Fans are eagerly awaiting the release of the game, and with good reason.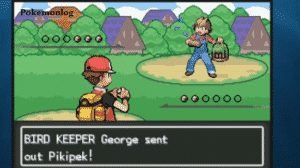 Pokemon Omega Red is sure to be one of the best Pokemon games released in recent years, and possibly one of the best ever. The game has everything fans could want: great graphics, animations, and an exciting story.
Moves from Gen 4 and 5:
As the newest installment in the Pokemon series, "Omega Red" is sure to excite long-time fans and newcomers alike. The game features a host of new moves from Gen 4 and 5, as well as some old favorites. With so much to explore, "Omega Red" is sure to be a hit withPokemon fans of all ages. Also, try Pokemon Charged Red (Latest)
The game features all-new moves from Gen 4 and 5, as well as new gameplay mechanics that will keep players engaged for hours on end. With so much to see and do, Pokemon Omega Red is a must-have for any fan of the series.
It is set to include moves from both Generation 4 and 5, making it one of the most comprehensive games in the series. Plus, with a new region to explore and an all-new story to uncover, there's sure to be plenty of adventure awaiting players.
All Alola forms:
As many fans know, the highly anticipated Pokémon game, Omega Red, is finally here! This game features all of the Alola forms of Pokémon, which are sure to excite trainers everywhere. With so many new and different Pokémon to catch, this game is sure to be a blast! This means that players will finally be able to get their hands on some of the most sought-after Pokemon, like Lycanroc and Alolan Marowak. With so many new forms to collect, this is sure to be one of the most exciting Pokemon games yet! Also, try Pokemon Metal Red GBA (Updated)
It features all of the Alola forms of Pokemon, as well as new Mega Evolutions. The game also has a new story, featuring the evil Team Skull. The Alola forms bring a fresh twist to the classic Pokemon formula, and they're sure to be a hit with fans of all ages. Whether you're looking for a new challenge or just want to collect them all, there's no doubt that the Alola forms are worth checking out.
Text/Menus and UI Changed:
There are quite changes available in the rom hack. Like the Battle text has been renewed with some new graphics and font style. You will experience out these font styles in this game. There is specific font style of the game, also the buttons of the game are different. More better objects are available in the stores.You will see some midis changes as well having a different selection screen this time. Also, try to download Pokemon Hoenn Adventures ROM for free.
Some Amazing Kind of Features in Omega Red v4.2 ROM Download:
New Graphics and Moves.
Animation effects are different.
Attacks of Special, State and Physical are included.
About 807 Pokemon.
Graphics of cave and outdoor are improved.
You can catch all the Legendary Pokémon.
New attacks of 4th and 5th generation.
There are Inclusion of the Fairy type.
Menu System is new.
Repellent System B2 / W2.
HP Changes when you capture.
You can run indoors and jump as well.
You can get all the initial Pkmn.
TM Infinity and without quantity.
Movesets are new.
Increased coaching difficulty.
Pokémon of the coaches changed.
Sports from the beginning.
Download Pokemon Omega Red ROM For Free: