Pokemon Greninja-Z is an interesting remake rom of pokemon emerald rom which has a new storyline and the main player named changed. Playing as a lead role, have some missions ahead to complete and dreaming to become a Pokemon Master one day. Pokemon Greninja-Z GBA Download have the same character name as Ash Greninja but in this version the name has been changed from Ash to Greninja-Z.
Explore and Download the Game Quickly
Even you can change the chacracter names in the game which is one of the coolest update and modern one. Ash Greninja is changed with the Mega Stone, as we know that many pokemon characters have been changed with mega stones. Some new pokemon are part of the game and all of them can be catchable. Let's discover some special features available in the game which makes it so special. There is a new Pokemon on the scene, and it's one you might not have expected to see. Pokemon Greninja-Z is said to be the latest addition to the franchise, but don't let that fool you into thinking that Greninja-Z isn't anything more than just another pokemon. It's not just another pokemon because it has different features, stats, abilities, and movesets.
Game File Info:
Game Name: Pokemon Greninja-Z
Remake from: Pokemon Emerald
Platform: GBA
Creator: Septianaditya070997
Language: English
Complete Overview and Walkthrough of Pokemon Greninja-Z GBA ROM Download:
Storyline is the same as the original version but there are some changes done in it. Changed some pokemon names, as well as their basic look has been changed. Due to Mega Stones there are many changes happened in the pokemon and character's outlook. Now each and every character look different than the normal, some of them are more powerful and some are weaker. About 300 pokemon are available from Gen 1 to 6 and one special thing about them that all of them can be capture if you want. Now which one to capture, it all depends on you, capture them by looking at their abilities and properties so that you have a basic idea about the pokemon that what can he do for you. Also, try Emerald Omega ROM For Free
Some pokemon have great potential in them, which can do multiple tasks for you, from fighting to finding the fairy type as well. These kinds of pokemon are available in this region but you have to do some really hard work in making them capture. After capturing you can train them and use their abilities to complete your day to day tasks. Meeting with the professor makes the tasks more easier because he/she knows everything well enough from you as he/she have more experience than you. For the first time in the Pokémon franchise, the 16th installment of the video game series will be released with a new Mega Evolution that will change Greninja into Greninja-Z. This is only possible when the Pokémon's stats are high enough and it has a Mega Stone for it. Try to download Dark Diamond ROM.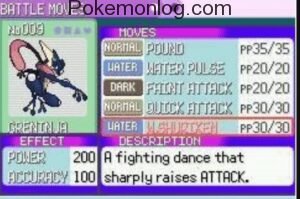 All you have to do is to meet with him before moving forward for a big task. In this way you will complete all of your tasks on time and complete all the missions with no stuck in between. There are mega stones which can be used on each and every pokemon to change their spirit and make them react differently this time. These little cool hacks makes the game more special for you to play with all the characters. The newest addition to the Pokemon franchise, Greninja-Z is water and dark type. It is said to live in large bodies of water. It can make an ice dome around itself for protection, which freezes any opponents who come near. They also catch prey by shooting spikes at them. There are many other new features added to this game like Mega Evolution, Battle Royal, Battle Tree and many more!
The newest Pokémon to join the fight is Greninja-Z. Scanning through battles, I have seen that it has the ability Water Shuriken. It is hard to tell much else about Greninja-Z yet because there are not many data for it. There are only two moves that are confirmed for Greninja-Z at this time, Water Shuriken and Aerial Ace. The Pokémon is a water type, so it will be weak against electric types.
Change Pokemon:
With Mega Stones and Evolutions you can change the properties of any pokemon and character you want to change. Some of the stones are available for you while for more you have to search in different locations. Most locations are hidden in the map, as you are an experienced person and can find locations easily. Locations finding depends on the experience you hae and how much you travel along the way like in Pokemon White 2 ROM. With Mega stones you can change the look as well the abilities of the pokemon. Also, make them use for all special and legendaries pokemon so that you can make full use of them before going for a huge battle in the area.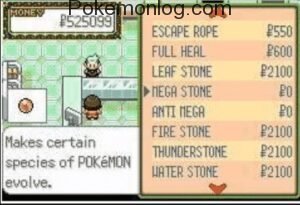 Even you can buy the mega stones in different stores, especially in the Lilcove Departmental Store. Why to buy these mega stones? Because it has a huge infact, all of your rivals are making full use of them to change their pokemon stats and spirit as well. For buying these stones you need some credits to give the shopkeeper in return like in Pokemon Blazing Emerald ROM. Each and every pokemon has been given the new abilities and moves which makes them move in between the houses and buildings. There are some little hacks which makes the pokemon capturing a lot more faster than the normal process. Remember that you have to find these types of hacks so that you have a better edge among your rivals.
About Gym Leaders and Gyms:
Gym Leaders are the most powerful trainers of their region, and they are tasked with challenging trainers to test their skills. These Gyms are scattered about the region – one for each of its towns or cities. The Gym Leader's responsibility is to maintain order in their respective area by evaluating local trainers' power. If they are found worthy, the person will give them a gym badge as proof of their skill. For those who were passionate about the original Pokemon game series, Pokemon Greninja-Z is an homage to the original games. The game features gyms which are led by gym leaders like Brock and Misty. Though this game does not include all of the old gym leaders, it does allow players to battle other trainers that live in different regions. These gyms act as checkpoints that give players access to new battles and battles against other gym leaders.
Gym Leaders are one of the most important parts of Pokemon Greninja-Z. Players fight them to earn badges, the currency of power. They are also integral to players' progression in the game. Without enough badges, players cannot purchase items or use helpful services like the PC. Gyms are where Brave Trainers can battle Gym Leaders for badges to boost their strength and skills. The gym leaders in the world of Pokemon Greninja-Z are a family of brilliant and powerful trainers. They have all agreed to uphold a code of honor, which is to battle with only one Pokemon per battle. The code of honor protects them from being overwhelmed by stronger gym leaders or from being incapacitated by runaway Evolution battles. They also have the power to summon allies from their respective regions, so it's always a constant battle.
When it comes to famous anime, there are few that can compare to Pokemon. The series has been an international sensation for over two decades and shows no signs of slowing down. Older fans can take comfort in knowing that there are new generations being introduced to the series every day. For instance, the newest Pokémon game is Greninja-Z, which is set in a region called Kalos. Instead, there are 12 gyms with leaders who have been chosen for their positions because they have been deemed best at their skill set. Your progress through the game is not limited to just eliminating opponents and collecting badges, but also about exploring and finding these hidden gyms that often have trainers who will challenge you before you can battle the leader. Also, try Pokemon Emerald 802 Download (Updated)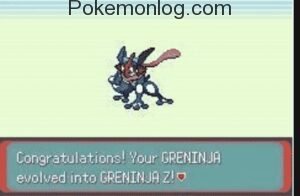 Battle System:
Talking about the battle system which is changed and have some more new enemies. Keep in mind that all of your enemies and rivals are making full use of their legendaries pokemon and mega stones. Try to practive Mega stones on only those pokemon that you consider them special and have power that can win battles and fights for you. New routes are available on which many new enemies are located. The battle and war effects are improved a lot while making sure that quality remains the same. These kinds of features makes the game special among all the pokemon emerald rom hacks.
Pokemon Greninja-Z has a very interesting battle system that is unlike any other seen in Pokemon games. In order to defeat the opponent, you must first defeat the enemy's leader. The player can then, if they wish, destroy one of their opponent's two remaining Pokemon. This does not have to be done in the same turn as defeating the leader, but if it is it will deal a double amount of damage. Players can control their character from a third person perspective, a first person perspective, or a top down perspective. The battle system has also been redesigned to allow for more strategic battles. In order to win a battle, players will need to plan out moves and use the moves of their characters' allies in order to take down enemies.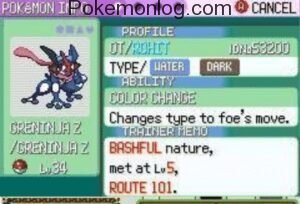 The player can choose between attacking an opponent's defense, or taking an opponent's health points. This forces players to think critically about their battle strategy and use their selected moveset wisely. Furthermore, this game uses a "Water-type" system that allows players to have more control over their character Most gamers have their own favorite battle system that they prefer to use, but Greninja-Z offers a battle system that has not been seen in any other Pokemon release. The new Battle System is called "Kitchen." This new system brings back the excitement of trying to find the best way to beat your opponent by changing how battles progress. Get Pokemon Hyper Emerald 807 Download (Updated)
List of Some Amazing Features in Pokemon Greninja-Z GBA ROM Download:
Physical/Special Split from older generations.
Old Storyline with some changes.
Pokemon from different generations.
All mega Evolutions.
The Mega Stones can be use for changing the spirit of pokemon.
Buy Mega Stones in Lilcove Departmental Store.
You can change A Greninja spirit.
Some new moves and movesets.
Graphics of the game are enormous.
About 300 Pokemon from Generations 1 to 6.
Download Pokemon Greninja-Z GBA Version For Free: